I can hardly believe we are just days away from Thanksgiving ~ but everywhere I look, I'm reminded that we are, indeed ...
Thanksgiving seems to be overshadowed by Black Friday, at least in my eyes. Stores opening earlier and earlier, some not even
waiting
until FRIDAY, to get an edge up on the competition.
Pffft.
I can't think of anything I need so badly, or a discount so large on one of those don't need but wants, that it would warrant me standing in line in the middle of the night, in Minnesota, in November ~ can you?
If I'm going to do any shopping in the middle of the night, it's going to be from the comfort of my own home! I personally, love doing a majority of my gift shopping online.
Eden Fantasys
is a great place to do just that ~
Whether it's the
Dona Bath Salts
~ available in many different scents, including my personal favorite Camu Camu -
The
St. Tropez Rollerball Eye Shadow Set
~
Or even one of their handy gift cards ~
You are sure to find some great gift ideas and/or stocking stuffers for most everyone on your list ~
YAY!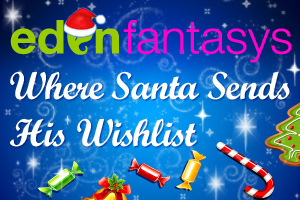 Pin It